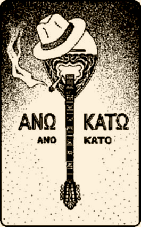 .
Here impressions of the workshop in Mirtos, Crete, 2010, 2011
Seminars & Workshops Greek music
In the Greek music workshops, lead by Michiel Koperdraat, we concern ourselves with different styles of Greek music, dependent on the instruments or preferences of the participants. We will handle: orchestration, style & idiom, instrument technique, theory on keys and rhythms, the use of 'quarter tones' and last but not least improvisation, for which Greek music is so well known.
Greek music offers a lot of opportunities for singing and the use of a host of instruments.

One can draw on thousands of Greek songs written in numerous rhythms and keys, thus enabling oneself to travel on a journey in which one can discover one's own potentialities for either singing or playing an instrument. This applies both to lead- and accompaniment instruments.
Greek songs can be performed in various ways: simple or abundant, which is what the Greek musicians themselves do. A certain song can sometimes be found in an abundance of versions, because every performer will give his own interpretation – Greek musicians enjoy improvising! And that is just how Michiel Koperdraat is conducting the workshops.
..
The participants will decide together how a piece of music will finally sound in the end. Everybody absorbs melodies by listening carefully so you know beforehand everyone has his own interpretation of the melody. Because attention will be paid to the Greek arts of composition, the melodies will gradually become more 'Greek'. Those arts of composition will be translated individually to each participant's own instrument and possibilities. Moreover, we will concern ourselves with the intonation of melodies.
Because Greek music draws from Eastern tradition, 'quarter (micro) tones' are still used a lot to give a melody its very own characteristics. It's great fun to indulge deeper into this: it's very good for the hearing- and listening skills, greatly enriches your performance and enlarges your ability to intonate freely and playfully.
The advantage of learning music by ear is that you will develop your hearing skills and your musical memory. Also, it strengthens the relationship with your own instrument. Your instrument will become part of yourself much sooner and the sounds you produce together will become more important for you, as being the performer, you're not only serving the music, but the music is also at the service of your own expression!
---
Every year we organize workshops in Greece! Work hard for a week in a pleasant atmosphere outside in the shade enjoying a coffee or ouzo. The workshops are attended by Dutch and Greek musicians.


More often than not, in the evenings a lot of time we will still be playing our music on taverna pavements of the

---



little village where we have our workshop (locations vary).


On the pictures you can see Michiel explaining about bouzouki-techniques and Greek music theory. Needless to say, Greece is the best place for studying and playing Greek music. Everything around you breathes music, and the locals love it!

---
In May 2003, for the first time another workshop was organized by Ano Kato on Crete. This workshop was intended especially for those who had been playing Greek music for some time already, individually or as a group.

At night, we performed with gusto at the local taverns. The local people greatly appreciated this! And at the end of the week, we had two official presentations for all the people in the village, visitors and locals alike.

Our location is the small village of Mirtos, located at the South coast of Crete. Participants stay in spacious apartments. In the village, at the town community hall, we had the use of a great rehearsel room. Mornings and afternoons were filled with working sessions.

Information:
---
Workshops Improvisation en Techniques
The central theme of the workshops is: 'everybody can learn to improvise'. We will pay attention to the possibilities of the participants to express themselves on their instruments. Playing improvisations gives the musician a great way to discover his own musical possibilities.
Main starting point is that everybody can learn to improvise and therefore being able to tell their own musical story.

All it takes is a little pluck.
During the workshops you will develop a large 'vocabulary' which enables you to express yourself better on your instrument.


For good improvisation a good technique is essential. This is just the thing we will teach you in an enjoyable way.

The workshops are meant for (amateur-)musicians who wish to develop their musicality and for those who 'feel stuck'. Also the ones who want to develop their composing and writing skills (as opposed to merely perform) are very welcome.

See also 'About making music'
..
---
.
Coaching and 'study orchestra's' in the Netherlands
A successful presentation of an orchestra at a show or concert depends on many factors. It is not enough just to have a well-rehearsed play list. Unforeseen problems can raise their ugly heads just at the supreme moment and thus stand in the way of success. This is always disturbing, more so if the audience and the artists have been looking forward to the performance, or if a recording session is about to take place. How does one prevent those problems and who will take the responsibility of pointing out the weak and/or blind spots? And what to do about stage fright?
Various groups can seek coaching by Michiel Koperdraat. For example a musical group that wants to improve their arrangements and improvisation, or is looking for a better way to present itself to an audience.
Merely working at the presentation of a group alone can already improve things a lot. Musical, individual and group presentation, alone and in combination with the music, will be dealt with extensively.
After examining the group from different angles (from the musician, from the audience, from the person who wants to book the group), Michiel Koperdraat will present different suggestions. If needed, he offers the necessary trainings.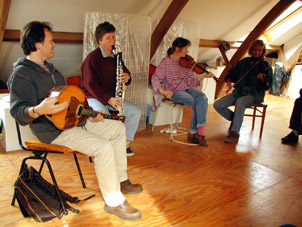 .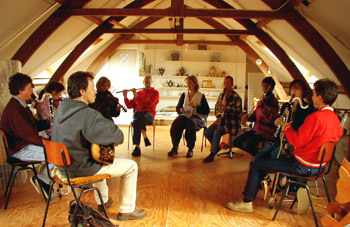 .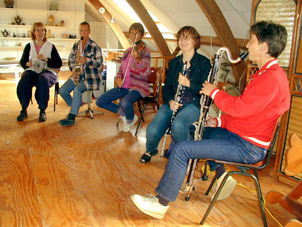 Several times Ano Kato founded by Michiel Koperdraat very enthusiastic Greek 'study-orchestras'
These orchestras study the same subjects as in the workshops. The only difference is that the orchestras want to form a strong team and work on their performance as well.
.


.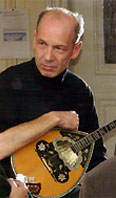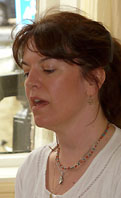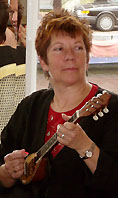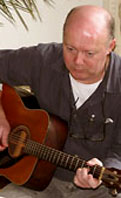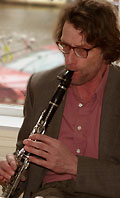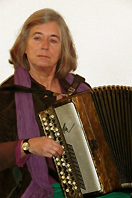 .
Kompania 'Vardaris'
(Orchestra in the North of Holland)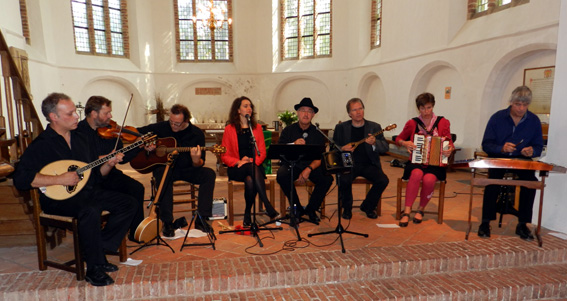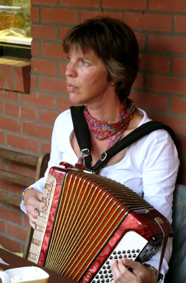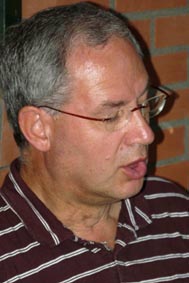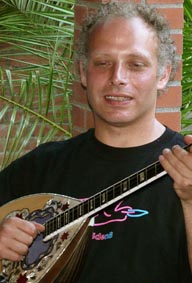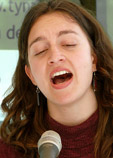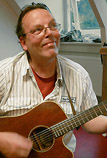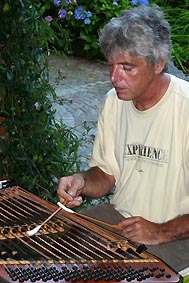 Orchestra in the North of Holland
After many years of coaching from Michiel Koperdraat this orchestra is independant now.
This kompanía is really doing a great job!



---
Individual and group lessons

Ano Kato provides both individual and group lessons for those who want to learn to play Greek instruments and for those who want to widen their knowledge on the Greek music theories.
Also those who want to develop their improvisation and musical technique can turn to Ano Kato for lessons.
A lot of emphasis is put on self-study. This way, one starts to develop independency a lot faster.
Lessons join in closely with skills, experience and interest.

For young...
Possibilities:
learning to play (Greek) instruments (bouzouki, baglamas, guitar, banjo, clarinet, accordion, darbouka)
.

learning Greek songs
.

improving specific plectrum- and plucking techniques
.

improvisation (central theme: how to tell your musical story)
.

techniques (central theme: how to become a autodidact)
.

lessons in accompaniment with chords and arrangement
.

composition
.

developing the inner hearing and listening skills
.

solfège and music theory
...and old
---
More info: