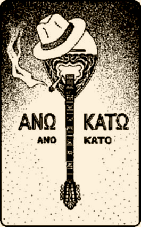 | | |
| --- | --- |
| Under the 'Mouriá'-tree | |

Michiel Koperdraat
vocals, bouzouki, ud, baglamas

B

eing in love with Greek music from childhood on, Michiel started playing bouzouki and related Greek lutes in 1987. Before that, he was bassplayer and composer. From 1993 on he took over the vocals in Ano Kato. He is dedicated studying Greek music, including all of its theoretical and practical aspects. For many years he is teaching Greek music as well. You can contact him regarding all your questions about the group

.

.

Jur Eilers


g

uitar

, laouto,

vocals

When in 1986 his Greek neighbour Andonis Moraïtis asked Jur if he would like to join him to play in restaurants, Jur didn't need to think for long: first of all, working conditions included free meals and smokes. Second and most important, Jur discovered he enjoyed playing Greek music very much so within weeks he delved into what was for him the essence of Greek guitar playing:
tight chords and inciting basslines.

.

Theo van Halen
clarinet

Theo has focused his attention solely on the clarinet in relation to Greek music. Before that, he also used to play and teach different kinds of saxophones, but now those instruments have all gone. After playing in many bands, and being a member of Ano Kato for a long time, he occupies himself fulltime with the Greek sound of the clarinet. Theo feels great passion for clarinet improvisations from the Epirus region which is clearly detectable in his music. You can hear a lot of 'soul' in his 'taximia'.

.

Michiel van der Meulen
violin

Mi

chiel grew up listnening the sounds of Greek music because his father played Greek music on the accordion so it's only natural that Michiel did join in very easy. For some years now, in Ano Kato Michiel makes the music from the islands sound just right. His sonorous violin gives color to the music from the Epirus and he prefers the ancient and modal musical inheritance from Asia Minor. At an auction, his mother bought him this very old violin with a great sound, for only 60 euro.

.

Andy Leeming
baglamas, bouzouki, percussion

Turn to Andy if you are looking for Greek instruments in the Netherlands. Playing bouzouki and baglamas, he grew more and more interested in how those instruments were built. Now he has already built several beautiful bouzoukis, small baglamases and tzourases, as well as an Epirotic dèfi (tambourine). For Ano Kato it is of course a major benefit that Andy plays percussion as well. He plays the baglamas in rebettica and laïka, and percussion instruments in dhemotika and music from Asia Minor.