You hear koukouaia's in the Greek night
Ano Kato: the history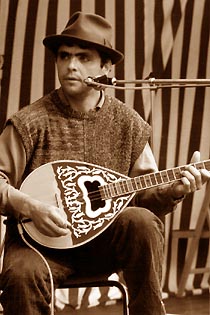 In May 1987, Ano Kato was founded under the name I tris Ano Kato.
The kompanía's first members were Andonis Moraďtis, Jurrie Eilers and Michiel Koperdraat. Ever since Andonis left, there has not been a native Greek musician in the band anymore. The first recordings I Tris Ano Kato made are now available on the 15th aniversary-cd "I Tris Ano Kato - Protes Ichografisis".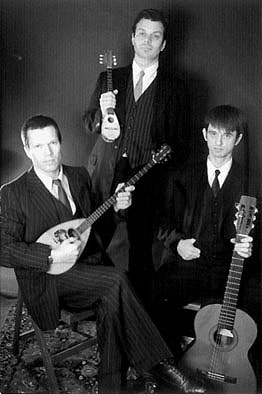 After performing for a year as an instrumental duo, Tim Meeuws (singer/baglamas-player) joined and so the trio was formed. During those years, Ano Kato played among others as support act for Michalis Yenitsaris, went to Greece a couple of times to perform and do radio- and television shows (f.e. Antenna).
Also, they recorded the documentary Rebčtika, the blues from Greece for Dutch television. They also released a cd with rebčtika and early laďká under the title Ano Kato – Chtes ta káname. Ano Kato wrote the musical score for the Dutch language course New Greek. This course was broadcasted several times by Teleac on television and radio.
During the years after Tim Meeuws left, the group consisted mainly of a collective of musicians under the supervision of Michiel Koperdraat. They performed in different strengths under the name Ano Kato – I kompania tis vradias.
The addition of percussion, clarinet, violin and accordion made it possible to expand the play-list.

The band started playing music from the islands as well – excellent music to dance to all night! This was a time filled with inspiration and movement.
In The Netherlands, interest in Greek music was clearly uprising. Greek music workshops and courses in Greek dancing were big business.

Lots of friends of the members of Ano Kato visited the shows to dance to their hearts' content. Also on stage the people had a great time, because of the many spontaneous improvisations and jamsessions.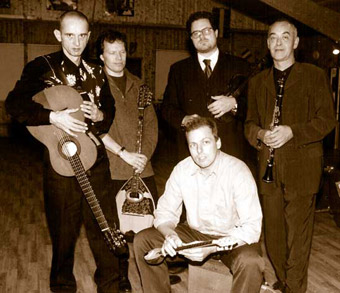 The last years now, Ano Kato consists of five musicians. The contribution of Theo van Halen (clarinet) paved the way for Ano Kato to play music from the Epirus. Ano Kato rehearsed a couple of Epirotic songs together with musicians from China. Like Chinese music, Epirotic music is largely pentatonic. Together, they staged a double-concert. As this was a very successful performance, Ano Kato started playing more and more music from the Epirus, also called 'the blues from the Greek mountains'.
During that time a cd was released with mostly Epirotic songs, but some music from the islands as well: Ano Kato – Levendes apo ta xena (Fellows from abroad).
It may be clear by now that Ano Kato plays most of the best known and influential music styles from Greece: old as well as modern laďká, rebčtika, nisiótika and epirótika – all very danceable music, and all in all a repertory of over seven hours! In this, the group is rather unique because most groups restrict themselves to just one kind of Greek musical style.
Ever since 1987, lots of pictures have been taken. From those, you can get a good taste of the atmosphere surrounding the group during all those years. We have tried to give as broad an overview as possible – sticking to the photographs from our own files.


You'll find them in the photo galerie

.
---
With Greek musicians