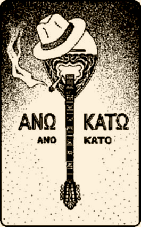 The band at present

The band as it is at present started performing in 1998. This cooperation has resulted in many (stilled) concerts and (exuberant) performances in many places, plus a cd with dhimotiká.

You can hire Ano Kato according to your own wishes: from a duo (vocals, bouzouki, guitar) to anything else you and the band agree upon. So you can have a band just the size your wallet can afford, and the space you have available can hold.
....
Michiel vd Meulen Jur Eilers Michiel Koperdraat Andy Leeming Theo van Halen

Ano Kato is playing Theodorakis' Ballad of Mauthausen in an special made arrangement for traditional instruments

Roelof Rosendal Jur Eilers Michiel Koperdraat Theo van Halen

.
Ano Kato as a trio

Ano Kato in concert

Photographs: Paulo Lobo

A performance in Theater 'De Tobbe' in Voorburg (The Netherlands)
guest percussionist

Leon van de Berg
The dancing audience was going around the group in circles!
..
.
Ano Kato performing at the Sterren Festival in Dwingeloo, the Netherlands (four group members). Location: a cozy pub – just the kind of place Ano Kato feels at home playing. Here the audience can walk around and talk, while still being able to listen to the music. In places like this Ano Kato is close to people who like to listen, or dance, to the beautiful songs.
..
..
On August 26th, the Noorderzon Festival in Groningen (the Netherlands) was dedicated solely to Greek music!

Both Ano Kato and Nomades performed as separate bands but joined forces at Ice-Stage at the central lake of the Noorder Plantsoen, Groningen. As a warming up, they did a radio show.

Radio-performance


1st set: performance Ano Kato with Tim Meeuws of Nomades

2nd set: Ano Kato plays the best of her repertoire


.3rd set: Ano Kato and Nomades together in a smashing and exciting finale
...

.
Performance of Ano Kato in Theater De Molen (The Mill).
(1999)

....

Here Ano Kato is playing in a Greek Taverna in Amsterdam. As the musicians - and the audience - have noticed, every performance in this beautiful taverna turns into one heck of a party! This night, dinner plates went flying around (sometimes we like it!), and everybody was dancing until the very early hours.

Photographs:: Maarten van Harmelen
And 'o teketzís' eggs the situation further on!
. .

. .
Sometimes Ano Kato has an audience with people who can really dance, like the group Ozan. This group is dancing with passion, art and technique, but most of all with a lot of joy, so Ano Kato is performing very inspired!
As you can see: this gives Jur an enormous pleasure!

.
.
.
Photographs: Jaap van de Gevel.
.
.
---

Ano Kato can also be hired by individuals for weddings, birthdays and any other occasion where a Greek orchestra (and more often than not, Greek food as well!) can heighten the celebrations.

Of course there will be dancing, reeling if necessary between the tables if the room is a bit cramped. Here a celebration in Greek restaurant Delfi in Assen. All group members of Ano Kato are present.

Photographs: Marc Ellenbroek
---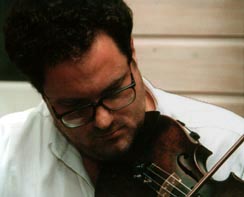 ..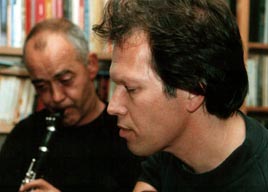 ..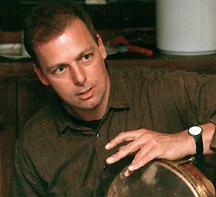 ..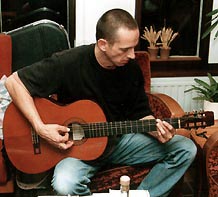 Recording 'Levendes apo ta xena'.
The cd was recorded at the house of friends. For the occasion, part of the house had been transformed to a temporary studio. Here are some pictures taken during the recording.
The presentation of the cd.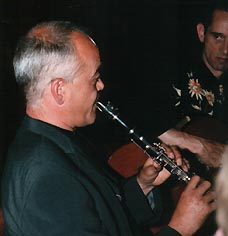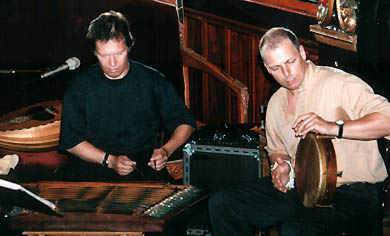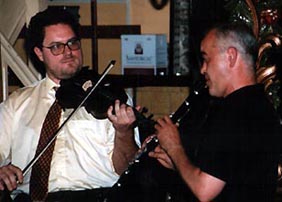 .
Ano Kato plays 'O Janos' (cd-presentation in 1999)
---
Ano Kato played many, many times (as a trio, in the nineties) in The Salon in Groningen.
It´s too bad The Salon does not exist anymore…
Click on the photo of Jur for a typical song.

(1995)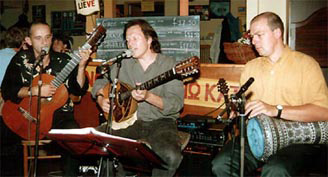 .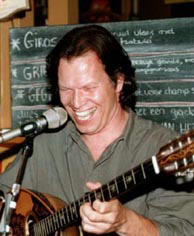 .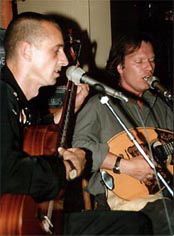 .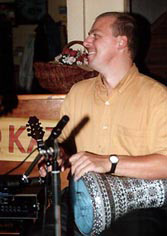 ---
A perfomance in Nikos Tsiaxiras' well-known restaurant Olympia in Amsterdam. Ano Kato played here many times. Without Ano Kato knowing it, this perfomance turned out to be a farewell party: at the time Nikos did not tell anybody he would be closing the restaurant within two weeks' time. Nevertheless, it was a great party.

Much to the joy of Ano Kato, by now Nikos has opened De Griekse Taverna at the Hobbemakade in Amsterdam. Of course, Ano Kato has been heard and seen there already.

...

.
---
Uitmarkt 1999: performance in the open air in Groningen.

.
.
.
.

(1999)

---
At the Greek society Anagennisi in Utrecht on the occasion of their 25th anniversary.
Dancing was performed by the professional group Pigasos.


---
At the Greek society in Groningen during the annual Easter celebration. Where Ano Kato is, there is dancing!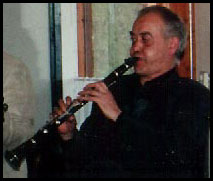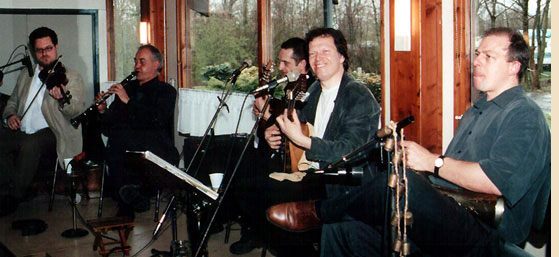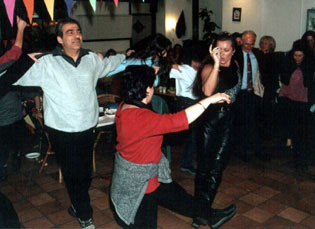 ---